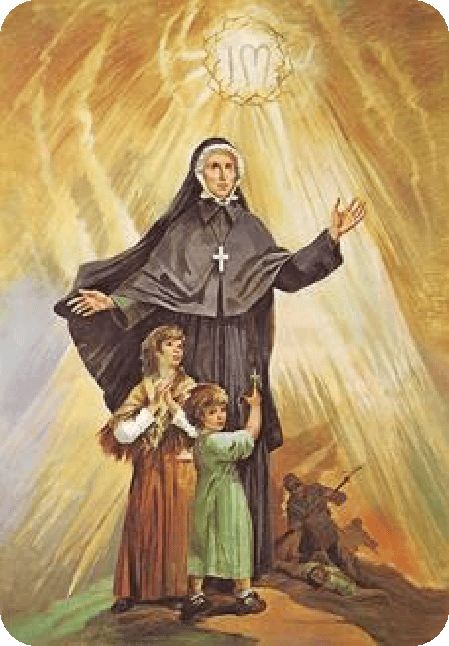 Pedagogy of Love
John Paul II: Claudine Thévenet is "a model of evangelical and religious life for those men and women who dedicate themselves to the education of the young, in the Church and according to her "
Initially, it is JESUS who prescribes the matter and the method to be followed in his Plans for educational action were drawn up in a community context and bear the seal of a beautiful family spirit.
The heart of Jesus vibrates with kindness, mercy, and predilection for the
MARY is an educator, mother, and disciple. Through her eyes, we look towards the future with hope and Mary is Protectress, always vigilant, and anticipates what is needed.
The ellipse of JESUS and MARY is characteristic of a fruitful educational
The training of a Christian is education for
Christ is Teacher, the Teacher personified. The Unique He is the obligatory reference point for all Christian education.
Characteristics
Unconditional dignity of the
Social training of the
Warmth of an authentic
Solid professional training which would enable them to face
Patience in the dealing with the progressive growth of the
System of a prevention
Aim
Instruct students in their faith and in
Form them in
Obliterate impressions received from bad
Direct their
Instill into them a love of virtue and make them good
Give them taste for work, devotion, and
Help them deal with domestic situations and be regarded as blessings in their future
Educator Qualities
Be models and living witnesses for the
Have a great simplicity (politeness, respect, customs, and courtesy).
Be thorough in carrying duties (charity, zeal, devotedness, vigilance, and attentiveness).
Be impartial.
Be completely dedicated (ardent, strong, generous, and constant).
Be real mothers/fathers to the children (patience).
Methods
Prevention of faults: The best leader is not the one who punishes the most, but the one who knows how to prevent the greatest number of This is the surest way of maintaining order, of doing good, and of making the children happy.
Attention to the
Participation and
Concern to give a practical training: school –
Order: doing what one has to do at the right time and in the right place, to foresee everything in the right
Simplicity and family spirit (affection, love, charity, and appreciation).