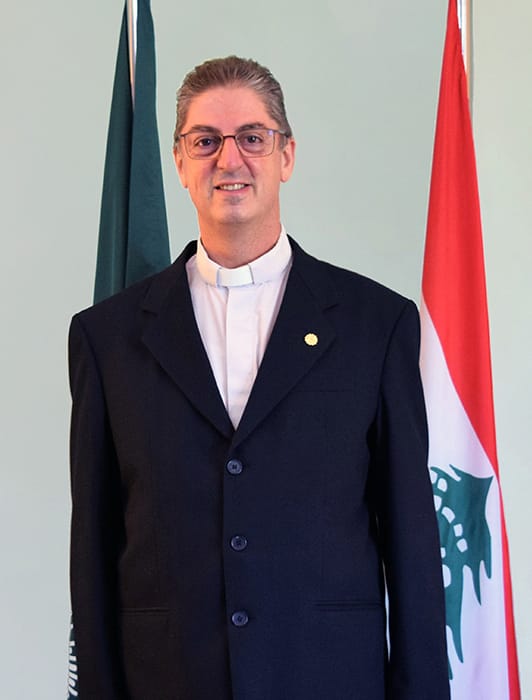 « La Culture de l'esprit est un autre soleil pour les gens instruits » ~Heraclite
 
A l'occasion de la rénovation de notre site Web à JESUS and MARY School, j'ai l'honneur et le plaisir de m'adresser à vous, cher (ère) lecteur (trice), pour vous exprimer mon attachement personnel à ce que notre établissement reste un Centre de rayonnement culturel, un lieu où nos élèves ouvrent leurs horizons à la culture, à la différence, à l'autre (A). Un établissement scolaire est d'abord un lieu d'apprentissage à la réflexion, un milieu qui nourrit la curiosité, un laboratoire où chaque élève s'exerce à la recherche, où l'amour de la science et de la vérité est le moteur et le garant d'un réel progrès personnel et social.
Dans ce sens, JM a accompli ce qu'il fallait pour intégrer le monde de l'IB, qui encourage, voire exige cette ouverture d'esprit à la vérité et à la connaissance.
Ce site Web, instrument d'information, s'efforcera de participer à la consolidation de cet élan vers la culture et la vérité.
Je lui souhaite toute la réussite, et à vous d'y trouver toute l'information sur notre vie scolaire.
Bonne année 2022 / 2023
Recteur
P. Moussa HELOU
حضرة أهل تلاميذ مدرسة يسوع ومريم الكرام،
تحيّة طيّبة،
يسعدني أن اتوجّه اليكم في مطلع هذا العام الدراسيّ ناقلًا اليكم تمنّياتي الصادقة بأن تحمل لنا هذه السنة بعض الانفراج، والكثير من الصحّة والقوّة. وإنّي متّكل مثلكم على حضور الله معنا الذي ينزع من قلوبنا الخوف والإحباط، وقد اخترنا شعارًا لهذا العام: "الربّ معين لي فلا أخاف" (الرسالة إلى العبرانيين 13/6).
يعود تلاميذنا الى مقاعد الدراسة، ليبدؤوا سنة جديدة نريدها سنة العودة الى الحياة الطبيعيّة، بعدما كانت 2021-2022 سنة تعويض النقص الذي نتج عن جائحة كورونا. وإنّي إذ أهنّئ تلاميذنا على نجاحاتهم اللامعة في الامتحانات الرسميّة بكلّ فروعها، واحتلالهم مراتب متقدّمة جدًّا على مستوى الوطن، أودّ معكم أن أشكر المربّين والمعلّمين في مدرستنا الذين بفضل جهودهم تحقّقت هذه النجاحات. كما اشكر لجنة الأهل على تعاونها المستمرّ وعلى المساهمة في تنظيم مبادرة الزيّ المدرسيّ المستعمل. إنّي أضع بين أيديكم مجدّدًا النظام الداخلي لمدرستنا، وهو ينظّم العلاقات بين مكوّنات عائلتنا التربويّة.
JM_School_NIZAM.pdf
كما أذكّركم بالدوامات التي أخصّصها لاستقبالكم، يومي الاثنين والخميس من كلّ اسبوع، من الثامنة والنصف الى العاشرة والنصف صباحًا، على موعد مسبَق.
يمكنكم أن كلّ تجدوا أخبار المدرسة على الموقع الالكتروني
jmrab.edu.lb
وفايسبوك وإنستغرام، كذلك تصلكم رسائلنا عبر منصّة DARS على هواتفكم.
وتفضّلوا بقبول محبّتي واحترامي.
الربوة – قرنة شهوان، في 13 أيلول 2022.
رئيس المدرسة
الخوري موسى الحلو
Dear parents of JM students
I am pleased to address you at the beginning of this new school year to convey my heartfelt wishes for a year which will carry, I hope, some relief and a lot of good health and strength.
Just like you, I count on the presence of Our Lord with us who removes from our hearts all fear and frustration. Our Theme of the Year reminds that "with the Lord on my side, I fear nothing" (Hebrews 13:6).
Our students return to school and start a new year during which we want to return to normal life, since 2021-2022 was the year of remediating the learning loss caused by to Covid-19. 
I would like to congratulate our students for their brilliant success at the Official Examinations –both in Brevet and Third Secondary—and for getting top rankings nationwide. With you, I would like to congratulate all educators and teachers of our school for their monumental efforts that made this happen. I would like to thank as well the Parents Association for their continuous cooperation and their contribution to the initiative of Used Uniform Drive.
Once again, I share with you our JM Bylaws (Internal Rules) that govern the relationships between different constituents of our educational family.
https://jmrab.edu.lb/about-jm/school-profile/jesus-mary-bylaws/
Also, I would like to remind you that I am available to meet with you on Mondays and Thursdays from 8:30 to 10:30 a.m. by prior appointment.
You may follow the school news on our web page https://jmrab.edu.lb/, Facebook, and Instagram, and you will get notifications on your mobiles through the Student Information System DARS.
Best Regards
Rev. Fr. Moussa Helou
Rector